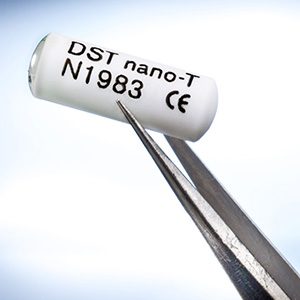 Further information:
Temperature Loggers
A wide range of temperature loggers from Star-Oddi:
Stress free collection 24/7 for reliable and reproducible data
Group housing for better animal welfare and high through put
Safe storage and readings at all times
The DST loggers are small implantable recorders that measure temperature with high accuracy and store the data in their internal memory. All measurements are in real time and can be accessed after the logger has been retrieved. The same logger can be reused as long as the battery lasts. The logger can be used in any environment where exact and accurate temperature measurements are required such as in research, packaging, logistics, validation of production lines etc. All DST loggers are delivered with calibration certificates.
DST Temperature Loggers
Product
Size
Weight
Battery Life
DST nano-T
17 x 6 mm
1 g
12 months *
DST micro-T
25,4 x 8,3 mm
3,3 g
24 months *
DST mili-T
38,4 x 12,5 mm
9,2 g
5 years *
DST centi-T
46 x 15 mm
19 g
7 years *
*) At logging intervals of 10 minutes
To find out more, visit http://www.star-oddi.com/