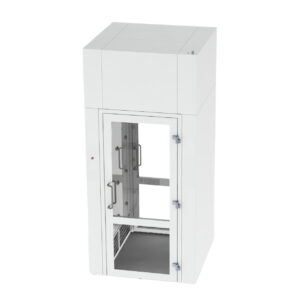 Further information:
Airshower
– Ideal as a barrier and access control between animal and non-animal areas. Showering in high-speed clean HEPA-filtered air is proven to decontaminate the surface of staff and items efficiently.
Customized cycles to suit your needs. Person shower in and/or out, purging cycle between person cycles in and/or out …
Interlocked doors for complete access control – key card controlled as an option.
The free-standing unit includes an efficient blower, H14 Hepa filter and prefilter (G3/G4 or HEPA prefilter). 100% recirculation of HEPA-filtered air.