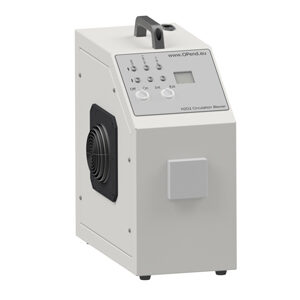 Further information:
H2O2 Circulation blower
For efficient decontamination of hard-to-reach areas
Ideal for thorough and efficient decontamination of:
• IVC air plenum ducts and blowers (any manufacturer)
• Microbiological Safety Cabinets
• Etc
To achieve an efficient decontamination with H2O2, it is important that the contact time is observed.
By active control of the flow of H2O2 into hard-to-reach areas, this unit ensures that all surfaces are exposed to H2O2 and that the contact time is observed.
The H2O2 Circulation blower can be set to control the operation of an external device e.g. a Microbiological Safety cabinet or it can be set to operate with its own internal blower e.g. for controlled circulation of H2O2 saturated air from the room into IVC plenum ducts.
Protocols for IVC systems and Microbiological Safety cabinets are available on request.